WELCOME TO KIAH PARK
Our team are here to help you. Whether your child is new to horses or an experienced rider our camps are designed for everyone.
Kiah Park was established in 1978 and is one of Queensland's leading horse riding facilities, specialising in horse riding holidays for children.
Our focus is on horse riding, but there is also so much more.  Kiah Park is a home-away-from-home where your child can develop independence, learn new skills and make lifelong friendships with other horse-loving children.
Our horse riding camps engage school-aged children in the fresh excitement of spending time outdoors.
Offering 7 Day horse riding camps during all Queensland school holidays, as well as shorter camps over long weekends throughout the year, it's an ideal place for kids who love animals.
We follow an active and busy schedule providing your child with a great range of outdoor fun, including learning to care for their horse, arena lessons, trail rides, challenge team activities, camp fires with sausage and damper roasting, and a gymkhana as the climax of the week.
Kids don't need any previous horse riding experience to enjoy a wonderful time at Kiah Park as lessons are incorporated into the program for new riders and they are allocated a horse to suit their riding ability.
Kiah Park… enjoy the country ride!
---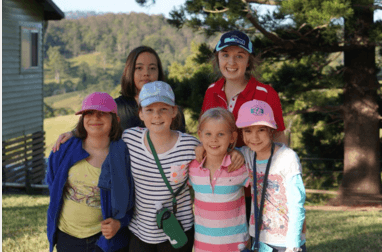 BOOK NOW! 
5-DAY EASTER CAMP 
11am, MONDAY April 5 –
7am, SATURDAY April 10
Cost: 845
Kids Aged: 6 – 16 years
3-DAY WEEKEND CAMP
5pm, FRIDAY April 30 –
3pm, MONDAY May 3 
Cost: 565
Kids Aged: 6 – 16 years
There are camps every school holiday block!  If you haven't already… please join us on facebook for all the latest news. 
PLAN YOUR NEXT ADVENTURE AT KIAH PARK
7 DAY CAMPS
Includes accommodation with adult supervision and great meals.  Children adopt a horse to enjoy for the week and activities include arena lessons, trail rides twice a day, learning how to keep and care for a pony/horse, gymkhana, animal feeding, collecting chook eggs, cow milking and fun night activities.
UPCOMING SUMMER CAMP DATES 
21 November- 28 November SCHOOLIES @ KIAH
28 November – 5 December (Seniors/ Advanced 14yrs+)
5 – 12 December (Booked out)
12 – 19 December (Booked out)
2021
Friday January 8  Family Trail Ride
NEW   Friday, January 8- Sunday, January 10   Family Weekend Stay At Kiah
Monday, January 11 –  Sunday, January 17  6 Day Kids Camp- 895 (Booked Out)
Sunday, January 17 –  Saturday, January 23  6 Day Kids Camp- 895 (Booked Out)
In 2021 there will be camps every school holiday block.  We will soon be releasing dates for ALL the 2021 camps. 
WEEKEND HORSE RIDING CAMPS
A compact and fun-filled weekend away. Full accommodation and nourishing meals are provided. Activities focus around horse care, lessons, riding and a fun gymkhana plus lots to keep the children busy and happy in between.
UPCOMING WEEKEND CAMP 
We have wrapped up all our long weekend camps for 2020 and look forward to releasing the dates for all the 2021 long weekend camps.   The long weekend camp certainly isn't long enough for some who just want to stay a little longer…. but it's the perfect length of time for the kids (or parents) who aren't quite ready for the  full 7-day camp. 
 DAY  HORSE CAMPS
NEW… from August 2020
A Day In The Country At Kiah
TRAIL RIDE WITH BUSH BBQ LUNCH
The whole family can escape the hustle and bustle and experience A Day In The Country At Kiah.
Now Mum and Dad can join the kids on a trail ride, experience a basic, bush BBQ lunch, enjoy the the Kiah animals and breath in the country atmosphere while having a laugh with family and new friends.
The trail rides are typically mid morning to mid afternoon with the option of a group arena lesson available prior to the ride.  For those who have a group of 10 or more we may be able to offer a date to especially suit your group of family and friends.
How to book?  Complete a booking and medical form online for each person.  Feel free to add further comment and mention if they have no experience or are walking, learning to trot, trotting well, learning to canter, cantering well or advanced.   For all persons returning to Kiah, please mention which  horse they rode previously and if their level of riding has progressed since their last Kiah visit.
Arrive by 10:30 am
Depart by 3:00 pm
Family Packages

195 for 1 person
175 each for a family of two
155 each for a family of three
135 each for a family of four
115 each for a family of five or more

Group beginner Lesson at 9:30am for those who are not experienced or confident with controlling a horse.
Boot Hire
Start Planning Your
Day In The Country At Kiah 
TODAY
SCHOOL CAMPS
& SCHOOL DAY TRIPS
A programme can be tailored to suit your group.
For more information:
SEE WHAT OTHERS ARE SAYING…
This place is seriously amazing! Kiah Park is fabulous – whether you've never ridden a horse or compete regularly. The Senior's camp was amazing. I was the youngest kid at camp, but everyone was super nice and always looked out for me. It was wonderful fun, and I seriously recommend it to all horse-crazy kids.
The time I spend at Kiah Park is always such well-spent time. The week is filled with amazing oppurtunities and activities that everyone thoroughly enjoys and can participate in. This is the most amazing camp that quite literally changes your life. The food is also wonderful, and the horses are well-trained. The supervisors are some amazing people who just make the camp run perfectly.
My daughters, 10 and 12 went to Kiah park for the 1st week of the winter holidays. They absolutely loved it – even though they have their own horse they really enjoyed riding and getting to know different horses. It only adds to their horsemanship confidence. Their days were well planned and action packed – they slept and ate well. Actually they loved the meals. They made friends easily and really liked the supervisors. This is the first time my kids have been to an out of school camp – however I was more relaxed about them going as we knew many other kids that have been there numerous times. Mine will definitely be going back!