WELCOME TO KIAH PARK
Our team are here to help you. Whether your child is new to horses or an experienced rider our camps are designed for everyone.
Kiah Park was established in 1978 and consists of 315 beautiful acres in the Beenaam Valley, situated 20km east of Gympie and 160km north of Brisbane.
Kiah Park is a home away from home for your horse-crazy child, they adopt a horse for their stay and enjoy arena lessons, trail rides and a gymkhana as well as experiencing farm-life.  Riding Camp is a healthy outdoor, technology free holiday and the best part is the new lifelong friendships that are made at our camps.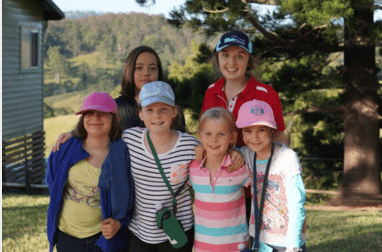 PLAN YOUR NEXT ADVENTURE AT KIAH PARK
7 DAY CAMPS
Includes accommodation with adult supervision and great meals.  Children adopt a horse to enjoy for the week and activities include arena lessons, trail rides twice a day, learning how to keep and care for a pony/horse, gymkhana, animal feeding, collecting chook eggs, cow milking and fun night activities.
UPCOMING CAMP DATES

Easter
1 – 8 April 2017
8 – 15 April 2017
Winter
24 June – 1 July 2017
1 – 8 July 2017
Spring
16 – 23 September 2017
23 – 30 September 2017
Christmas
25 November – 2 December 2017 (Senior riders 13yrs+)
2 – 9 December 2017
9 – 16 December 2017
16 – 23 December 2017

WEEKEND HORSE RIDING CAMPS
A compact and fun-filled weekend away. Full accommodation and nourishing meals are provided. Activities focus around horse care, lessons, riding and a fun gymkhana plus lots to keep the children busy and happy in between.
UPCOMING WEEKEND CAMPS
28 April – 1 May 2017 (Labour Day long weekend)
13 – 16 October 2017 (Student Free Day long weekend)
 DAY  HORSE CAMPS
Horse riding Day Trips are offered on Monday  and Tuesday during the
school holidays and some weekends.
Suitable for children 8yrs – teens, must be able to trot and have good control of a horse.
Includes an arena lesson, trail rides, meals and heaps of fun.
Time: 8am – 5.30pm
UPCOMING DAY CAMPS

April 3, 4, 10, 11 & 30
June 26 & 27
July 3 & 4
September 18, 19, 25 & 26
October 15
December 4, 5, 11, 12, 18 & 19
SCHOOL CAMPS
& SCHOOL DAY TRIPS
A programme can be tailored to suit your group.
For more information:
SEE WHAT OTHERS ARE SAYING…
This place is seriously amazing! Kiah Park is fabulous – whether you've never ridden a horse or compete regularly. The Senior's camp was amazing. I was the youngest kid at camp, but everyone was super nice and always looked out for me. It was wonderful fun, and I seriously recommend it to all horse-crazy kids.
The time I spend at Kiah Park is always such well-spent time. The week is filled with amazing oppurtunities and activities that everyone thoroughly enjoys and can participate in. This is the most amazing camp that quite literally changes your life. The food is also wonderful, and the horses are well-trained. The supervisors are some amazing people who just make the camp run perfectly.
My daughters, 10 and 12 went to Kiah park for the 1st week of the winter holidays. They absolutely loved it – even though they have their own horse they really enjoyed riding and getting to know different horses. It only adds to their horsemanship confidence. Their days were well planned and action packed – they slept and ate well. Actually they loved the meals. They made friends easily and really liked the supervisors. This is the first time my kids have been to an out of school camp – however I was more relaxed about them going as we knew many other kids that have been there numerous times. Mine will definitely be going back!